Elektro-Material, Switzerland's market leader in electrical installations powered the performance of their EM order app with Scandit's super-fast scanning solution, which replaced an open source scanning component. Zero delays with speedy ordering through the app, and added innovation from OCR text recognition and MatrixScan-AR (augmented reality) overlays provided additional information, further enhancing the customer's user experience.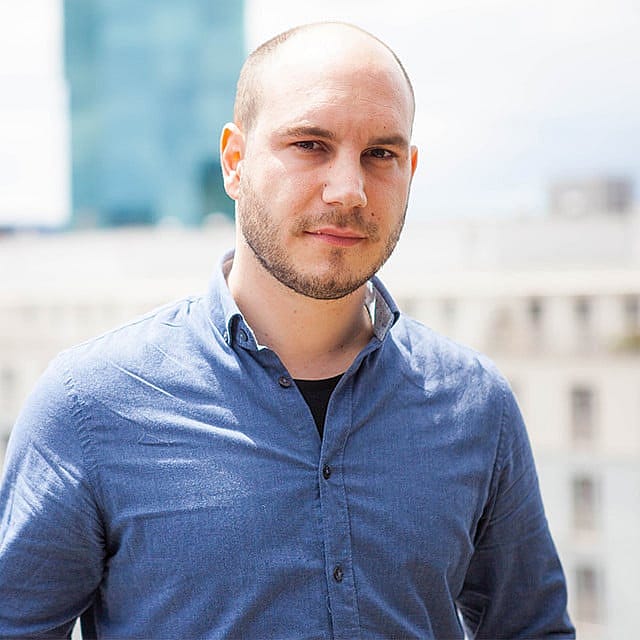 To provide a seamless order experience when customers purchase products through our digital channels is key to our e-commerce strategy. Upon replacing the open source scanner with Scandit's barcode scanner SDK and MatrixScan-AR, we saw a dramatic improvement in scanning speed and increased engagement with our EM app.
Pascal Willi – Head of Digital Commerce, Elektro-Material
Challenge
Improve the app's scanning performance: optimize user experiences
Elektro-Material AG (Elektro-Material) is a leading supplier of electrical components to Switzerland's construction industry. They are part of the Rexel Group, a global wholesaler of electrical goods with over 2,100 branches in 35 countries.
Elektro-Material's customers range from industrial buyers, builders and building contractors, to electricians and construction companies. Customers can make purchases from a comprehensive catalogue of 250,000 electrical goods, by phone through a sales representative; in person, at any of Elektro-Material's nine branches across Switzerland; and through digital channels such as the EM webshop, and the EM order app from their iOS and Android smartphones.
As the digital channels were a significant source of business revenue, Elektro-Material wanted to ensure that the order process was fast and seamless for customers who used the EM app. The app had an open source scanning solution, which customers used to scan barcodes from a catalogue. They could also print barcode labels from the EM Webshop, for products that did not have barcodes, and scan them in the app.
Whilst customers had a satisfactory experience placing orders through the EM app, they found the scanning process quite slow – at times taking several seconds to scan a single barcode. This delay in fulfilling orders, resulted in a poor user experience for customers. As a result, customers found it quicker to reorder over the phone, or at an Elektro-Material branch, especially for large orders.
Moreover, some products only had serial numbers, which could not be captured by the open source scanning component of the EM app. These performance issues negatively impacted the customer's purchase experience and reduced the number of orders originating through the app.
Elektro-Material wanted to change this and embarked on a digital commerce initiative to improve the app's performance and increase customer stickiness.
Solution
Switching over to Scandit's scanning solution
The company selected Scandit's smartphone scanning technology to replace the open source scanning software in the EM app. mp technology, the app developer integrated Scandit's barcode scanner SDK with the order app, for use on Android and iOS devices.
Scandit's barcode scanner SDK is compatible with over 20,000 smartphone models, providing an instantaneous scanning response. This is especially helpful for Elektro-Material who has no control over the device types that their customers use, and can rest assured in the extensive smartphone device support provided by Scandit – an option that is not available with open source barcode scanning technology.
Watch a buyer use Scandit's MatrixScan and AR information overlays to check price and availability of Elektro-Material products.
Transformation was quick. Customers no longer experienced delays while ordering, as scanning products is fast. According to Pascal, "In recent times, we've noticed an increasing affinity among customers, especially the younger ones for using our digital channels, such as the EM webshop and the EM app to order products."
MatrixScan-AR innovation enhances user experience
Elektro-Material further enhanced the capability of Scandit's barcode scanner SDK with additional features such as OCR (Optical Character Recognition) text recognition. Customers can now easily capture serial numbers on products that don't have barcodes using the OCR scanner in the EM app.
The company also added innovative features to the EM app including Scandit's MatrixScan and augmented reality modules. WIth MatrixScan, customers save a significant amount of time, as they can scan multiple barcodes in a single sequence.
The EM app is powered by Scandit's augmented reality information overlays, which connects to Elektro-Material's ERP system, instantly offering customers detailed product information on their smartphone screens with a simple hover over the barcode and without the need to login to the website. Whether it is checking price and stock availability of different products at various Elektro-Material branches in real time, or finding out product delivery times and more, customers can do a lot with augmented reality.
Says Pascal, "With MatrixScan, we want to gain insights into the value that our customers gain from this app. We hope the innovation offered by Scandit's MatrixScan and augmented reality continues to increase customer stickiness – the time they spend interacting and reordering through the EM app."
Results
Faster scanning ensures quicker order processing

5x

Customers regularly scan and purchase through the EM app

15k+

App engagement surpasses 95,000 scans within three months

95k
Accelerated adoption, increased app engagement
Elektro-Material continues to promote the EM order app to customers, encouraging them to transition from offline ordering channels to digital. As customer adoption and engagement with the EM app grows, Elektro-Material's digital channels are contributing to a higher volume of revenue.
In fact, Scandit's scanning solution is the EM app's most used feature, coming a close second after the app's search function. The app received over 95,000 scans in a short time frame of three months, compared to 112,000 scans made over 12 months during the previous year.
Feedback from Elektro-Material's customers, employees and management is that Scandit's scanning performance is way faster than the app's original open source scanning software – approximately five times faster.
He adds, "We see Scandit as a long term partner, offering much more than a scanning solution. As we collaborate and work towards continuous improvement of our order app, we look to Scandit for opportunities to innovate and enhance its functionality."