Maximize Time, Revenue and Compliance
Transform smart devices into fast and accurate consignment inventory tracking tools. Get rid of error-prone, manual medical device inventory tracking processes with the Scandit Smart Data Capture platform.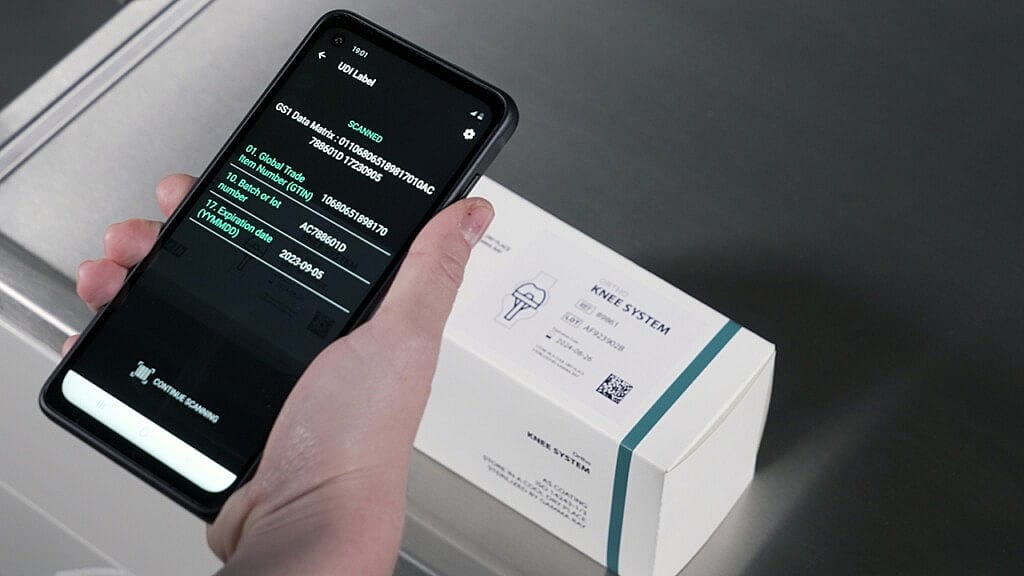 Streamline Stock Taking at Point‑of‑Storage
A Scandit-powered app on any smart device helps streamline medical device inventory at the point-of-storage by innovating and automating processes.
Scan and parse individual or multiple UDI labels in a single scan
Capture 1D or 2D barcodes, record non-barcoded LOT and REF numbers
Highlight expiration dates with AR overlays, ensuring patient safety and compliance
Record an entire shelf in a single scan with superfast MatrixScan
Quickly and accurately scan in disparate hospital environments, such as low-light and glare, or hard-to-reach top or bottom shelves
Reliably Record Medical Device Consumption at Point-of-Use
Medical device manufacturers can use smart data capture on a smartphone to:
Accurately scan and track medical device consumption before surgery
Verify products are in-date for patient use
Ensure revenue is received for devices that are consumed
Digitalize patient sheets post surgery, saving time on manual entry of product codes
Stock is accurately replenished, preventing stock and revenue losses
We're happy to help you
get started with Scandit
"Accurate, barcode scanning was critical for our company's surgical consumption recording. Scandit's smartphone scanning solution was the most robust and reliable."Global Medical Device Company
Trace Medical Device Inventory with a Smartphone
Replace expensive, high-maintenance bluetooth and RFID scanners with familiar and affordable smart devices – integrated with Scandit-powered apps, these devices help you track exactly where and when medical devices are used.